B-Mix 5 This high-fire stoneware is smooth and shows bright colored glazes. I throw pots with this clay and I make a lot of pieces from slabs. One of my favorite styles is to decorate a slab of clay with many textures and imprints. I'll then form it into a mug or vase using a wood mold. I also use plaster molds to form dishes. After the first (bisque) firing I brush each section with a different bright colored glaze. (M&M page shows lots of pieces using this technique.)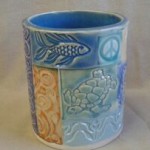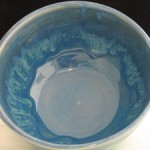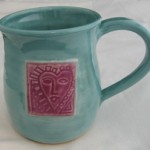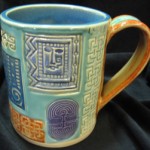 Early on when I threw bowls with the fine white clay sometimes they collapsed – right when I had the perfect shape! I needed a grittier clay that I could play around with on the wheel a little longer.
For a while I used a gritty gray clay from Sheffield in  Many of you loved the drippy glaze combinations. I stopped using the gray Sheffield clay and replaced it with another dark clay that I can buy locally. The darker clays contain more organic matter and can be a challenge to fire without bloating. Another challenge with the darker clays is finding glazes that show at all. I have found a few that I love and continue to experiments with.
Brown 112 Clay number 3! I wanted a clay that is between the bright white and the dark gray. This clay starts out brown, after the first firing it is pinkish, and in the end it is buff with dark specks that show through the glaze. The glazes have an earthier tone on this clay. Over the years I have found very pretty glaze combinations that I use on microwave cake bakers, yarn bowls, mugs and wall pockets.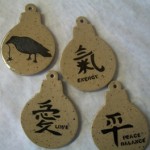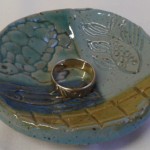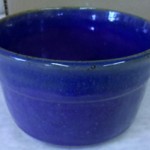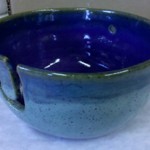 So … one potter …  three favorite clays … 39 favorite glazes!